Japan
| 2014/11/06(木) 22:10
I'm in Aichi now.
just hopping around motorcycle shop to shop everyday.
Today, I'm going to this shop...
Beautiful neighbor
Yoshimasa (Niimi-san) crossed country with Shinya Kimura on 1915 Indian
very cool shop
Thank you for taking your time to show your GARAGE!!
Jam'z Garage
愛知県豊川市御油町米野21-1
0533-56-2688
スポンサーサイト
Japan
| 2014/11/02(日) 09:27
Im in Shizuoka which is just below Mt.Fuji now.
Here are some cool shop around this area.
3rd shop Ive been visiting is....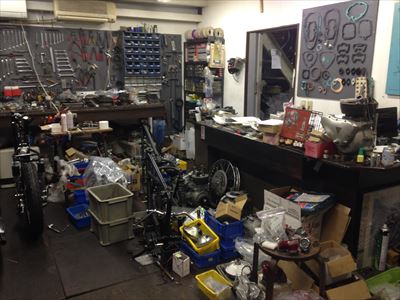 Gladstone motorcycles
When I stepped in this shop, I felt like a wow, 6th street??
See this? it really looks like 6th street, doesnt it?
Seacret attic
so many parts and parts
Hiei-san and Yasu, thank you for giving me a tour of garage
Gladstone motorcycles
静岡県浜松市東区薬師町474
053-422-5819